About Us

Established in the year 2007, we, M. S. Surgical, are offering Disposable Surgical Products. We are a renowned manufacturer, exporter, wholesaler, distributor, trader and supplier of Latex Surgical Gloves, Disposable Surgical Gloves, Latex Examination Gloves, Plastic Examination Gloves, Face Mask, Delivery Kit with Linen, Foleys Ballon Catheter- 2 Way and Oxygen Mask. We use non toxic materials and the advanced production technologies to manufacture our products. Our products are developed in congruence with guidelines, drawn by the health care industry.
In addition to above mentioned products, we also offer Urine Bag, Plastic Shoe Cover, Umbilical Cord Clamp, Male External Catheter, Surgeon Gown, Guedel Airway, Infant Mucus Extractor, HIV Kit, Surgeons Cap, etc. Our products are light in weight, sterilized, highly effective and available at affordable prices. We offer all our products under the brand name of MediSter.

It is our well developed infrastructure that supports us to meet the market demands in a precise manner. Our infrastructure consists of manufacturing plant, administration section, quality control laboratory, product supply wing and marketing division. The synchronized coordination between these departments leads us to complete the product orders on time. All these departments are managed by our skilled employees who work day in, day out to take the company's business to the heights of success. Our employees' experience and knowledge helps us to develop best grade products and meet the customers' demands in the best manner. Owing to these areas of expertise, we have been successful in attaining an unconquerable position in the marketplace.


Our products are availed by:
Hospitals
Medical Institutes
Clinics
Nursing Homes
Health Centers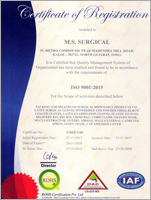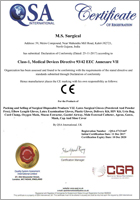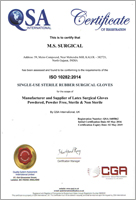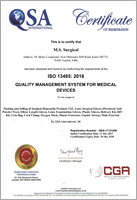 Read More